There's a variety of methods you can use to prevent users from adding their own formatting.  With the Manage Styles feature, you can restrict formatting for the entire document or just parts of the document.  You can access Manage Styles from the bottom of the Styles Pane (Shift+Ctrl+Alt+S).  There you can select styles and choose how to control them.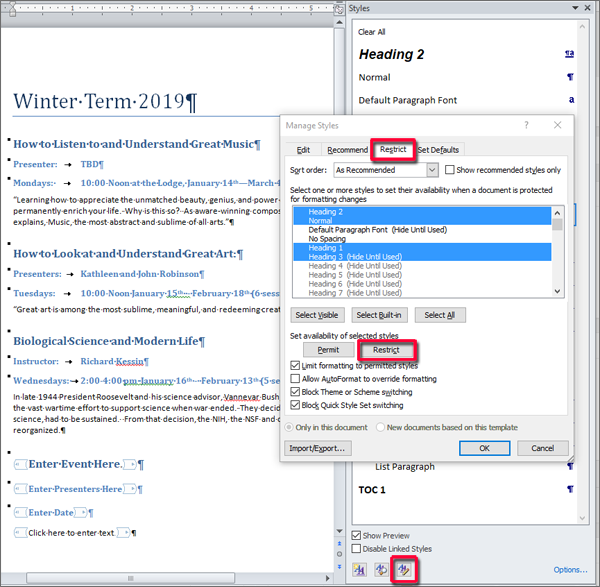 Click on the Manage Styles button at the bottom of the Styles pane and that will open up the Manage Styles dialog box.
Notice two of the options below the Permit and Restrict buttons.
Limit formatting to permitted styles allows reviewers to change formatting using only permitted styles. Reviewers won't be able to format text directly or use styles that are restricted.
Allow AutoFormat to override formatting allows reviewers to use restricted styles when automatically formatting text such as hyperlinks or automatic bullets.
Another feature that might be useful is the Restrict Editing feature on the Review tab.  This will allow you to restrict editing also. You might want to only allow the filling in of forms, for example, or entering information on certain pages.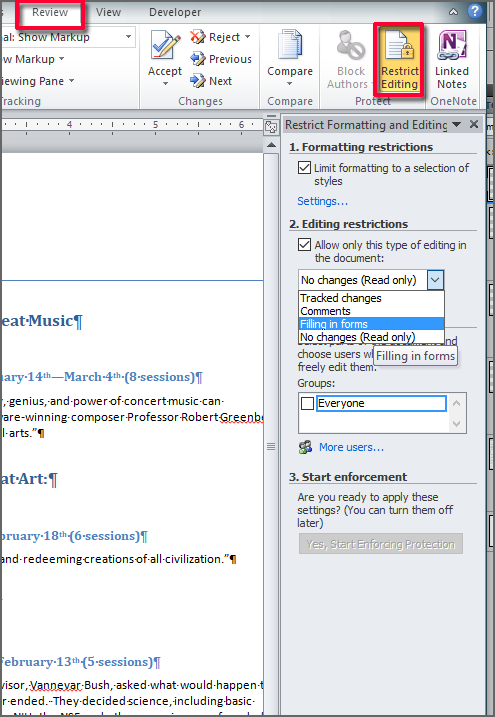 In the Editing restrictions area, you could select the Allow only this type of editing in the document check box.    You can also select the part of the document where you want to allow changes.  Then Start enforcement.
Perhaps a combination of these two features—Manage Styles and Restrict Editing—will allow you to do what you want.