To format text into columns, click the Page Layout tab and click Columns in the Page Setup group.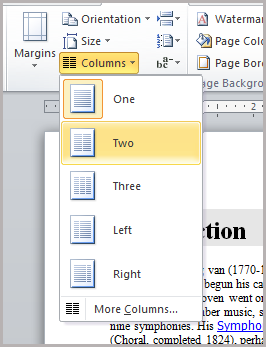 If you click on More Columns at the bottom, Word will display the Columns dialog box.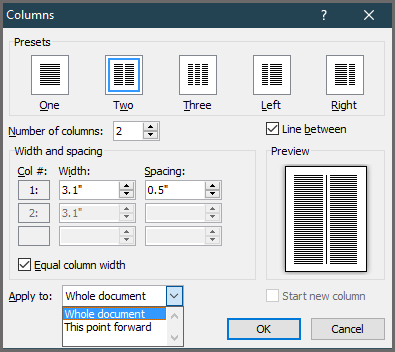 The Columns dialog box provides options for setting the number of columns and spacing between columns. Word calculates the width of each column according to the left and right document margins on the page and the specified (default) space between columns.
Once you've created columns, the text will automatically flow from one column to the next. By default the dialog box sets a design of two equal columns. In the box above, the option for Line Between is checked which is reflected also in the Preview.
You can either use this setting for the whole document or from this point forward.
If you only want part of your document set up this way, select the text encompassing this area and then click on Columns.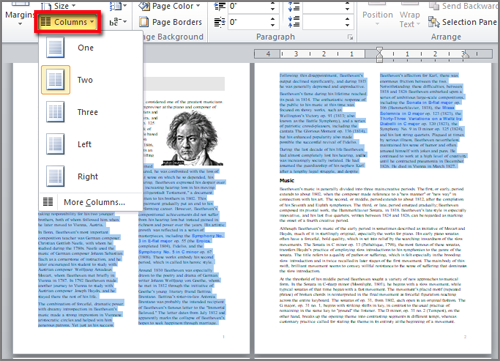 Word will create a new separate section for that text and create the column structure you defined.
Sometimes you might want to control exactly where each column begins. You can do this by creating column breaks. Click on the Break icon on the Page Layout tab and select Column.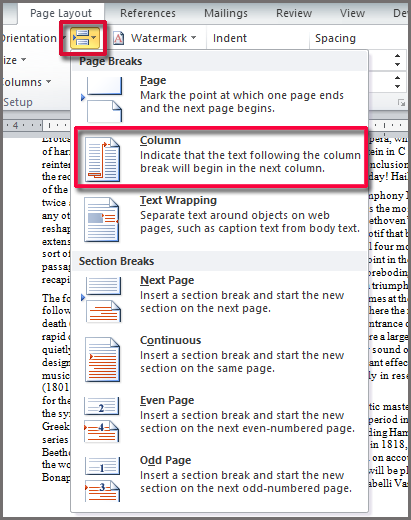 Word will set a break at that point and the text that follows will begin in a new column.